HCPC Media & Outreach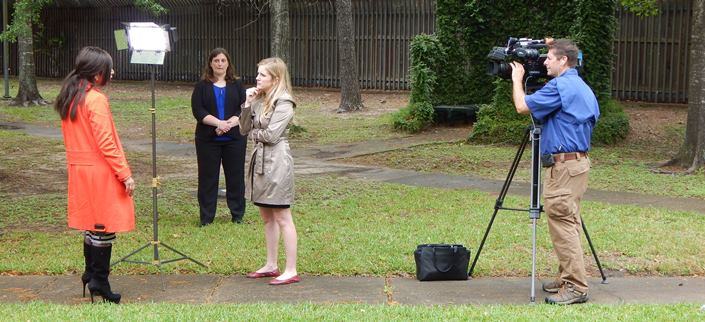 HCPC treats more than 9,000 people annually for various forms of mental illness. As part of The University of Texas Health Science Center at Houston, HCPC is also a leading research institution and serves as a teaching facility for psychiatrists, social service clinicians, pharmacists, nurses, and other health professionals. Our teaching staff includes graduates and faculty of leading medical schools: In addition to those trained at McGovern Medical School, our world-class faculty come from leading institutions around the world.
HCPC is committed to educating the community on the value of good mental health. The end result is recognition in the community that HCPC is among the finest psychiatric centers in the country.
HCPC in the News
• In honor of Mental Health Awareness Month, our COO, Steve Glazier, was invited to write an Op-Ed for The Texas Tribune. He wrote about the wisdom of creating a continuum of care for mental health in the Lone Star State. Read the May 9, 2016 article online.
• UTHealth HCPC received a State of Texas Resolution, in recognition of receiving The Joint Commission's designation as Top Performer in Key Quality Measures. See the State Proclamation here.
• UTHealth HCPC is recognized as a Top Performer in Key Quality Measures by The Joint Commission.
• Read an excellent editorial in The Texas Tribune, by David Lakey, associate vice chancellor for population health in the UT System, acknowledging HCPC as a "good model to follow…[that] provides learning and training opportunities for our next generation of mental health workers…and resources to improve overall care."
• Watch the FOX interview about internet addiction—with Dr. Iram Kazimi, Director of our Pediatric Bipolar Program, and faculty member, Louis A. Faillace, MD, Department of Psychiatry and Behavioral Sciences. at UTHealth Medical School.
• Watch the KPRC Houston story "New therapy helping patients deal with depression" — with Dr. Salih Selek, Director of the Refractory Mood Disorders Program, UTHealth Harris County Psychiatric Center.
---
As part of our ongoing effort to educate the community about mental illness, many Harris County Psychiatric Center physicians and other healthcare professionals are available to speak to the news media, community organizations and civic groups on a variety of mental health topics.
Additionally, UTHealth HCPC sponsors a variety of community programs, produces public service announcements and participates in local health fairs to educate the public on mental health issues.
Contact information for:
For additional information about UTHealth HCPC, contact our Office of Executive Director.