HCPC News Media Requests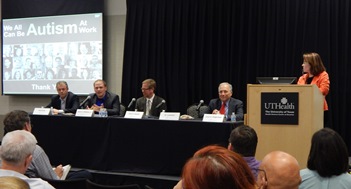 The University of Texas Harris County Psychiatric Center treats more than 8,000 people annually for various forms of mental illness.
UTHealth HCPC, along with McGovern Medical School's Louis A. Faillace, MD, Department of Psychiatry and Behavioral Sciences, is also a leading research institution and acts as a teaching facility for psychiatrists, social service clinicians, pharmacists, nurses, and other health professionals. UTHCPC's teaching staff includes graduates and former employees of leading medical schools such as Johns Hopkins, Yale Medical School and The University of Texas Medical School at Houston. The staff and students participate in research studies ranging from schizophrenia to the effects of drugs on mental illness. Additionally, HCPC is committed to educating the community on the value of good mental health. The end result is one of the finest psychiatric centers in the country.
UTHCPC faculty and staff are considered to be a leading resource for information on the following topics:
Schizophrenia
Bipolar Disorder
Depression
Children's Mental Illnesses
Stress Disorders
Mental Illness in the Elderly
Anxiety Disorders
Topics which the media find of interest may include:
Stress Issues
Post Traumatic Stress Disorder (PTSD)
Family Mental Health Issues
Job Layoffs and Uprooting Your family Family Violence And Abuse
Child Abuse
Depression
Child/Adolescent Mental Health Issues
Childhood Depression
Teen Suicide
Out of Control Children
Attention-Deficit Disorder
Dating Violence
General Mental Health Issues
Schizophrenia
Eating Disorders
Obsessive Compulsive Disorders
Traumatic Brain Injury
Ethnic Differences In Mental Health
For more information contact:
Deborah Mann Lake, Director, UTHealth Media Relations
Telephone: 713-500-3304
Media Hotline (24/7): 713-500-3030
Email: Deborah.M.Lake@uth.tmc.edu