Speaker Requests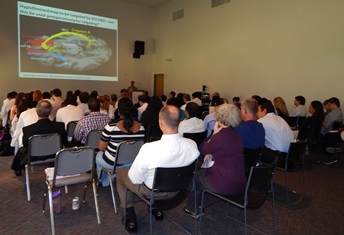 HCPC treats more than 9,000 people annually for various forms of mental illness. As part of The University of Texas Health Science Center at Houston, HCPC is also a leading research institution and serves as a teaching facility for psychiatrists, social service clinicians, pharmacists, nurses, and other health professionals. Our teaching staff includes graduates and faculty of leading medical schools: In addition to those trained at McGovern Medical School, our world-class faculty come from Johns Hopkins, Yale Medical School and numerous leading institutions from around the world. Our staff and students lead research studies on topics ranging from schizophrenia to the effects of substance abuse on those with mental disorders.
HCPC also is committed to educating the community on the value of good mental health. The end result is recognition in the community that HCPC is among the finest psychiatric centers in the country.
UTHCPC faculty and staff are considered to be a leading resource for information on the following topics:
Schizophrenia
Bipolar Disorder
Depression
Children's Mental Illnesses
Stress Disorders
Mental Illness in the Elderly
Anxiety Disorders
Scheduling A Speaker
To schedule a speaker or arrange HCPC attendance at a community event, please send an email to Dorothy.Harris@uth.tmc.edu.