History & Achievements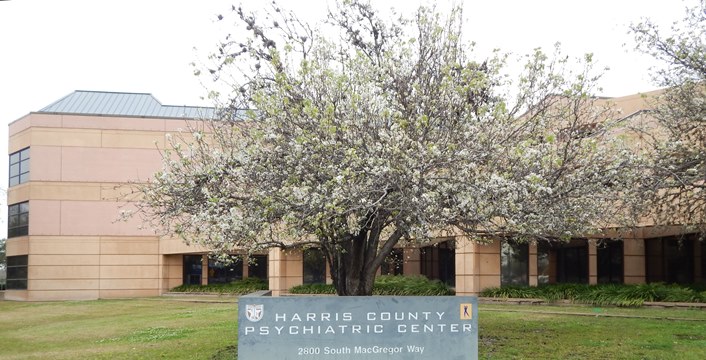 Throughout its history, The University of Texas Harris County Psychiatric Center (UTHealth HCPC) has taken a leadership in providing behavioral health care in our community. Since opening its doors in 1986, to when it became an operating unit of The University of Texas Health Science Center at Houston in 1990, to the present, HCPC has met the community's needs in the areas of patient care (numbers of patients served, average length of stay and cost per patient day), education (health care workers trained), research (into causes and treatment of mental illness) and community service (opening the Center's doors to the local community to provide care for those with mental illness and to educate those who serve them).
1981
UT Harris County Psychiatric Center Created by the Texas Legislature
1984
Groundbreaking Ceremonies at the MacGregor Street/Leland Anderson Campus
1986
First patient admitted on October 22, 1986
1988
UTHCPC receives JCAHO accreditation for the first time; the hospital has been re-certified every three years since
1990
UTHCPC becomes an operating unit of The University of Texas Health Science Center at Houston
UTHCPC establishes a Patient Relations Office to ensure patients and family concerns and issues are fully investigated
1991
UTHCPC certified by the Health Care Financing Administration (HCFA), resulting in certification to receive Medicare reimbursement
The occupancy rate of the hospital is 92%; the length of stay is 23 days for adults, four days less than 1990;
UTHCPC hired a nurse recruiter to ensure full staffing during a national nursing shortage
A psychiatric residents learning center is established on site
Activity and occupational therapists are hired to provide programming during late afternoon, evening, weekend and holiday periods
UTHCPC receives two National Institute for Mental Health grants for the study of depression in Hispanic adolescents and to compare different modes of treatment of patients in psychiatric crisis
A patient data base is established for research purposes
A model nurse staffing system is established to further improve patient care
An automated time and attendance system for staff is implemented
1992
UTHCPC receives a Medicaid Provider Number, the first free-standing psychiatric facility in the State to do so
UTHCPC participates in a model research program in managing aggressive behavior with the University of Houston
MHMRA begins experimenting with the support functions regarding UTHCPC patients by moving staff off-site, rotating off-site medical and supervisory coverage
A University of Texas School of Nursing at Houston faculty consultative relationship is strengthened to improve care by continuing to develop links between the academic staff with advanced clinical and research knowledge and the UTHCPC staff involved in clinical activities with patients
UTHCPC participates in research studies of the drugs sertraline and remoxipride
1993
UTHCPC establishes the Research Intermediary role, in continuing efforts to ensure quality research programs and one-hundred percent compliance in the area of patient informed consent
UTHCPC expands admission program for children/adolescents to allow for 24-hour emergency admission
UTHCPC expands clinical social work program, activity therapy, pastoral care and patient relations areas
A memorandum of understanding between UTHCPC and the Harris County MHMRA clarified funding arrangements
The Center for Community Education and Professional Development is established in a continuing effort to provide educational programming for mental health professionals, consumers, family members and the general public
UTHCPC/MHMRA Joint Quality Council was created to work with shared data bases, shared formulary, continuity of care, transfers to Rusk and triaging patients
1994
UTHCPC takes over management of the Medical School Psychiatric Library and expands services to include data bases such as TX Share, MedLine, and others
Held national symposium entitled "Victim Violence and Medical Research - A Call for a National Legal and Medical Response", attended by mental health care professionals from across the country
1995
Sought and received TACADA funding as alternative funding for chemical dependency treatment
The MHMRA/UTHCPC Joint Quality Council continues to collaborate in effort to improve patient care through shared patient data, joint planning of system changes, joint medical staff conferences and additions and research initiatives
The Consumer/Provider Partnership is formed; this ad hoc committee, comprised of members of MHMRA, UTHCPC, MSI, DMDA, AMI and consumers, is charged with fostering communication between consumers, providers and the general public; this initiative has resulted in several city-wide educational programs about mental illness
UTHCPC negotiates with the Harris County Hospital District (HCHD) to bring a gold card certification worker into the hospital so that patients could apply for the card and receive general medical services from the hospital district in a more efficient manner after discharge from UTHCPC
A rapid patient evaluation program is implemented on the receiving unit, increasing the number of patients served and resulting in fewer beds needed on this unit, freeing up beds for the general adult population
1996
Admissions office days of operation expanded to seven days a week; the hospital has been providing 24-hour, 7 day admission to children and adolescents for several years prior to this formal move to 365-day operation
UTHCPC developed a standardized clinical process model, including a clinically based patient intake model, a primary nurse model, and treatment team training on the use of the treatment planning protocol
A new computer system and software that allows the Center to gather and transmit patient data more efficiently is installed; the system allows for computerized medical records, streamlining the ability for medical record review, research and data compilation.
The Center began the developing the framework for a Center for Outcome Studies
The single diagnosis substance abuse unit is closed due to changes in funding at the state level; substance abuse education is further integrated into all patients programming
UTHCPC continues efforts in the area of community service, partnering with Yates High School, Cullen Middle School and St. Mary's Church; the hospital also conducted 25 community based activities this year
The hospital celebrates its 10th anniversary with a community-wide program featuring seminars and lectures by local and nationally-known authorities in various aspects of mental illness
UTHCPC begins a pilot Patient Satisfaction Survey program, which was fully implemented in 1997, to ensure patients, family and others expectations were examined and addressed in a uniform manner
UTHCPC continues to work with the HCHD to ensure that patients have access to gold card and SSI benefits to ensure for general medical treatment availability after discharge from UTHCPC
1997
Co-sponsored, as member of Consumer Provider Partnership, two seminars by Joyce Burland, founder and author of Journey of Hope
UTHCPC Partial Hospitalization Program opens, providing day programming for children, adolescents and adults
UTHCPC continues development of continuity-of-care programs
UTHCPC participates with UT-HHSC in a tele-education program with the Spring Branch Independent School District
UTHCPC implements policy whereby MHMRA agrees UTHCPC psychiatrists can screen, approve children/adolescents requiring emergency admission
1998
UTHCPC begins tele-education programming with the Houston Independent School District's Whittier Elementary School, allowing for weekly sessions between Whittier teachers and UTHCPC child psychiatrists and psychologists
Although not required by the MHMRA contract, UTHCPC expands admissions/treatment programming to 24-hour/7day a week
UTHCPC develops criteria to keep shorter-term Rusk-bound patients locally at UTHCPC
1999
UTHCPC opens Sub-Acute Unit, serving adolescents, ages 10 through 17, in the custody of the Harris County Juvenile Probation System. To date, this program has had a success rate of sending more than 50% of patients home or other community placements, other than prison or youth facilities.
2006
UTHCPC opens Residential Treatment Center serving adolescents, ages 13 – through 17, who are in the custody of Childrens' Protective Services, Juvenile Detention or other youth facilities. This program provides longer term treatment for these adolescents, in the hopes they will be able to be placed in less-restrictive home environments upon program discharge.
2007
Initiated Children's Mental Health Initiative, designed to expand and enhance UTHCPC services through a community-based model of psychiatric care targeting young children, adolescents and their families. Services include early identification, intervention and treatment of mental illness, medication management, family counseling and other mental health-related Services.

Services provided at Gulf Coast and Avance Head Start, The Houston Independent School District, The Children's Assessment Center, Neighborhood Centers, KIPP Academy, Katrina Evacuees, the Mental Health Mental Retardation Authority of Harris County, the El Paso Mental Health Mental Retardation Authority (the provision of tele-psychiatry services), The Harris County Disability Determination Services Division, the Brazoria County Children's Center Incorporated, Harris County Commissioner's Court Project Help and the Children's Resource Center.
2008
Opened a unit serving inmates in custody of the Harris County Jail System. The goal of the program is to provide psychiatric care, medication management and other services in the hopes of diverting these individuals away from the criminal justice system.
2010
Opened unit specializing in treatment of those with schizophrenia; emphasis on patient care and emerging research.

Opened unit specializing in treatment of those with bipolar disorder; emphasis on patient care and emerging research.
2011
Opened unit specializing in the treatment of patients with co-occurring mental illness and substance abuse disorders; emphasis on patient care and emerging research.
2012
Opened Competency Restoration Unit, funded through MHMRA, providing services for jail inmates.
2012
Dedication of Lois J. Moore Child and Adolescent Treatment Unit.
2015
Opened ECT (electroconvulsive therapy) Clinic, specializing in outpatient treatment for refractory depression and other conditions that have not responded to medication or traditional therapies.
Awarded Top Performer in Key Quality Measures by Joint Commission; one of only 10 Texas hospitals to receive the award.
2016
Received a State of Texas Resolution, in recognition of Joint Commission award as a Top Performer in Key Quality Measures. Read the proclamation.
Opened Geriatric Psychiatry Unit, specializing in inpatient care for adults age 65 and older who are experiencing an acute episode of an emotional or behavioral issue.
Celebrated 30-year anniversary with local and state community partners and employees.