Outpatient Services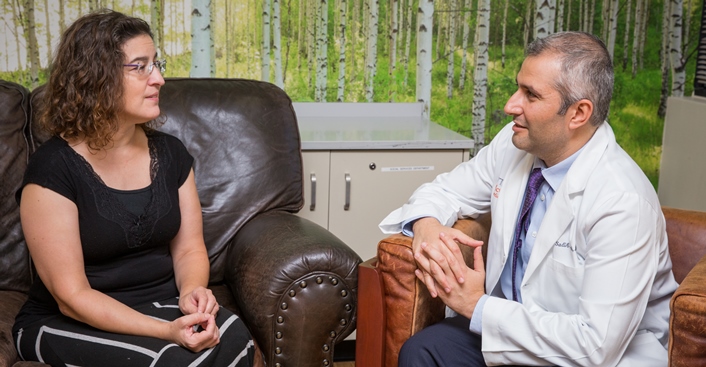 HCPC offers outpatient services that focus on helping those with treatment-resistant depression, including ECT (electroconvulsive therapy) as well as ketamine infusions offered through our approved clinical research trial. These services are provided in our ECT Clinic in newly remodeled rooms that opened in 2015. We bring UTHealth's world-class level of clinical care to this much-needed service in Houston and surrounding areas. Learn more about the ECT Clinic.
ECT (electroconvulsive therapy) is one of the fastest ways to relieve symptoms, especially for severely depressed patients who may have to wait several weeks or even months to discover whether specific anti-depressant medications take effect—often to no avail. ECT provides a rapid response rate for those at risk of harming themselves, stopping eating or no longer wanting to live.
ECT also has shown to help with:
bipolar disorder,
refractory schizophrenia,
the elderly with dementia related to agitation and aggression,
pregnant women wanting to avoid medication or
pregnant women with catatonia.
---
Additional Outpatient Services are available through McGovern Medical School Department of Psychiatry and Behavioral Sciences. Our faculty physicians provide a wide range of diagnostic and treatment services to children, adolescents, adults and older adults. Following an initial assessment, we develop an individualized treatment plan for each patient.
Outpatient clinics in the Department of Psychiatry (located at the Behavioral and Biomedical Sciences Building, 1941 East Road, Houston, TX 77054) include:
Second Opinion Clinic: 713-486-2700
Adult Outpatient Clinic: 713-486-2700
Child and Adolescent Outpatient Clinic: 713-486-2700
Center for Neurobehavioral Research on Addiction: 713-486-2800
C.L.A.S.S. Clinic: 713-486-2666
UTHealth Center of Excellence on Mood Disorders: 713-486-2627
For additional information, please visit Louis A. Faillace, MD, Department of Psychiatry and Behavioral Sciences..