Ketamine Clinical Research
Meeting the Needs of Patients with Treatment-Resistant Depression at UTHealth HCPC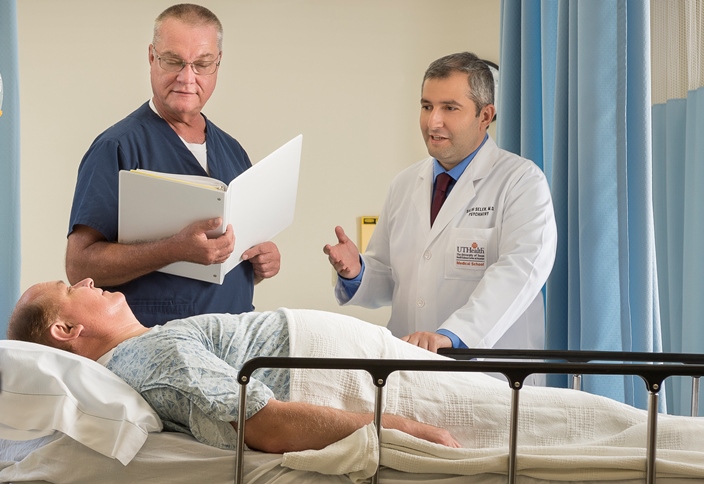 UTHealth HCPC is expanding its outpatient services to offer ketamine through an experimental trial for treatment-resistant depression. A patient is considered "treatment-resistant" when they have received at least two different medications, yet their condition has not improved.
Studies suggest that ketamine may reduce suicidal thoughts and ideations, and alleviate other depressive symptoms. Ketamine is not approved by the FDA as a treatment for depression thus UTHealth researchers are exploring ketamine's efficacy and safety for treatment-resistant depression through a clinical trial. This clinical study has been approved by UTHealth's Committee for the Protection of Human Subjects. As a service provided at HCPC's outpatient ECT Clinic, the intravenous infusion of ketamine is administered under the direction of Salih Selek, M.D., who oversees the hospital's Refractory Mood Disorders Program. Dr. Selek, associate professor at McGovern Medical School Department of Psychiatry, is ranked in the top 4.3 percent of international experts specializing in mood disorders, according to expertscape.com.
The procedure takes approximately 45 minutes, followed by a two-hour observation period. Ketamine may cause minimal sedation, thus an anesthesiologist will remain present throughout the infusion. A typical course of treatment includes 12 infusions over an 8-week period (typically, 2 treatments a week for 4 weeks, followed by weekly treatments for the remaining 4 weeks).
Ketamine therapy is non-reimbursable by insurance but is available at a self-pay cost of $400 per infusion, which is well below the typical rate in this region. A full course of 12 treatments will total $4,800.
Potential participants first meet Dr. Selek for treatment resistant mood disorder evaluation, when treatment options, including ketamine infusion, will be discussed. To participate in the ketamine clinical trial, patients also will meet with a research associate to determine whether they meet criteria. Patients also are informed of all risks of the procedure, including possible side effects such as problems with attention, learning or memory. A full screening may be required for medical authorization.
UTHealth HCPC is committed to providing comprehensive care in a comfortable and compassionate setting, including acute and maintenance treatment. If you are interested in referring a patient or have any questions, please do not hesitate to call the ECT Clinic at 713-741-3930.